Payment Processing for Firearms and Gun Merchants
It's no secret that selling firearms and gun-related merchandise can be a lucrative business. After all, over 30% of adults in the U.S. report that they personally own a gun.
The target market for this industry is expanding, and merchants need to find the right payment processor to make their businesses a success. It's important to understand the unique needs of this industry and how payment processing for firearms and gun merchants works.
For example, you need to understand the regulations around selling guns and how they will affect your payment processing abilities.
What happens when you get a customer who isn't authorized to purchase firearms?

How can you protect your business against fraud?

When is it necessary to place a hold on a customer's payment? 
These are all important questions you need to address in your search for the right payment processing company.
Vector Payments specializes in helping firearm and gun merchants. Keep reading for our team's insights on the basics of payment processing for firearm dealers as well as some of the key factors you'll need to consider when choosing a payment processor for your business. We'll also take a look at some of the applicable regulations governing firearm sales in the United States.
Let's dive in:
Why It's Critical to Choose the Right Payment Processor
Would you trust a random person on the street with your money? We wouldn't either. The same should be true for the payment processing company you choose.
Picking the right payment processor for your firearm and gun-related business is critical, especially since not all payment processors are willing to work with gun merchants. In fact, due to the risk associated with firearm sales, many traditional payment processors refuse to work with this type of business.
Fortunately, there are specialist payment processors out there designed to work with firearm and gun merchants. These providers typically have a much more comprehensive understanding of this sector's needs and can offer tailored solutions to help keep your business compliant with all applicable regulations.
That's why it's important to do your research and fine tune the list of prospective payment processors early in your search.
What to Know About Processing Payments for Firearms
Before you start selling guns, it is important to understand the regulations and requirements for firearm sales in your state or region.
Selling Firearms is Considered a "High-Risk" Business
The distribution of firearms is considered a "high-risk" business due to the potential for fraud, money laundering, and other criminal activities. As such, these types of businesses often face more stringent requirements when it comes to payment processing.
Many payment processors require additional documentation from firearm merchants before they will approve an account. This can include proof of identity, a valid gun license, or other relevant forms of identification.
Other companies also require firearms merchants to obtain special insurance coverage and abide by certain security protocols in order to protect against fraud and chargebacks.
However, we want to be clear that "high-risk" does not mean bad—especially when you work with Vector Payments! It just means that extra steps need to be taken to ensure compliance with the applicable laws and regulations.
Common Challenges Gun Dealers Face With Payments
Gun dealers may face certain challenges when it comes to payment processing, including: 
Higher Than Average Transaction Fees
Since firearm transactions are considered high-risk, many payment processors charge higher transaction fees to cover their own risk exposure. While the exact fees vary, you may find yourself losing money if you choose the wrong payment processing partner.
Strict Sign-Up Requirements
Many payment processors have strict sign-up requirements for firearm merchants. On top of the standard Know Your Customer (KYC) and Anti-Money Laundering (AML) checks, firearm merchants may be required to provide additional proof of identity, a valid gun license, or other types of identification.
More Stringent Security Protocols
Payment processors may also require gun merchants to implement certain security protocols in order to protect against fraud and chargebacks. (Ex. Additional encryption protocols or two-factor authentication.)
Regulations for Firearms Sales in the US
The Bureau of Alcohol, Tobacco, Firearms, and Explosives (ATF) is responsible for regulating firearm sales across the United States. 
These regulations vary from state to state. For example, California has 107 active state gun laws, whereas Florida only has 30. Businesses should consider that state regulations may make selling guns more complicated, especially if they are moving products across state borders.
Gun regulations generally include background checks and age restrictions on firearm purchases. Firearm merchants must also be aware of the Gun Control Act of 1968, which prohibits firearms from being sold to certain people, such as those convicted of felonies or who have a history of mental health issues.
These regulations also apply to payment processing. For example, it's illegal in most states for a firearm merchant to accept payments from someone who is not legally allowed to purchase a firearm.
It's essential for any gun merchant to familiarize themselves with these regulations and ensure that their payment processor is in compliance with them.
How to Ensure Compliance When Selling Guns
The best way to stay compliant with all relevant regulations when selling firearms and gun-related merchandise is to partner with a payment processor specifically designed for this industry.
These providers typically have the necessary tools to make sure your business meets all applicable compliance requirements, while also providing you with a secure and efficient way to accept payments from customers.
Furthermore, they should also be able to provide helpful advice if there are any issues or questions about restrictions on firearm sales in your area.
By partnering with the right payment processor, you can ensure your business is compliant and secure while providing customers with a convenient way to purchase firearms and gun-related merchandise.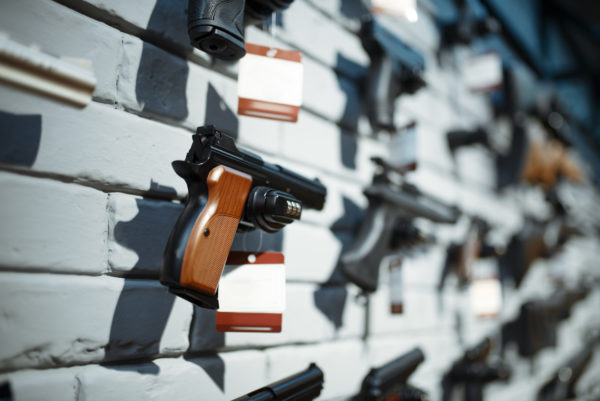 How to Choose the Right Payment Processing Company
Now that you know what to expect when selling guns, it's time to find the right payment processor for your business. Here are a few tips on what to look for:
1. Research Providers That Specialize in Payment Processing for Firearm Merchants
When researching payment processors, make sure to look for companies that specialize in payment processing for firearm merchants.
Here are some green flags to look for:
Extensive experience working with firearms merchants

Knowledgeable customer support staff who are familiar with the industry

Robust fraud protection and risk management tools

Fast and secure payments

Quick and easy setup

No long-term contracts or commitments
2. Ask About Fees and Security Protocols
You should also ask about any fees associated with the payment processor, as well as what security protocols are in place to protect against fraud and chargebacks.
A reputable payment processor will be transparent about their fee structure, so make sure to inquire as much as necessary.
For example, here are a few questions you should consider asking your payment processor candidates:
Are there any fees associated with using your services?

What kind of fraud protection do you provide?

What security protocols are in place to protect against chargebacks?

Do you have any experience working with firearm merchants?

What information do firearm merchants need to provide to sign up for a payment processor?
3. Look for Seamless Integration
It's important to find a payment processor that integrates seamlessly with your existing business operations. This will make it easier to manage your payments and keep track of customer orders.
Consider payment processors that allow you to accept payments through your existing website, POS system, or inventory management software.
4. Consider Your Customers' Needs
Finally, make sure to consider the needs of your customers when choosing a payment processor. Look for features that will make it easier for customers to purchase firearms and gun-related products.
For example, think about whether you'd like to offer payment options such as Apple Pay, Google Pay, or cryptocurrency. Do you want to provide online invoicing or enable customers to save their payment information for faster checkout?
These features can make the shopping experience more convenient and secure for your customers. You can increase conversions and attract repeat buyers by providing a stellar customer experience.
5. Research Regulations
As we mentioned, you should also familiarize yourself with any relevant regulations pertaining to the sale of firearms and gun-related merchandise.
Make sure to choose a payment processor that is Payment Card Industry Data Security Standard (PCI DSS) compliant. This will help ensure that customer data is always kept secure. A PCI-compliant payment processor should have resources and tools in place to help protect customer information and reduce the risk of fraud or data theft.
6. Find a Payment Processor That is Easily Scalable
If you plan to grow your business, look for a payment processor that can scale easily with you. Choose a provider that allows you to accept payments in multiple currencies and doesn't limit the number of transactions you can process each month.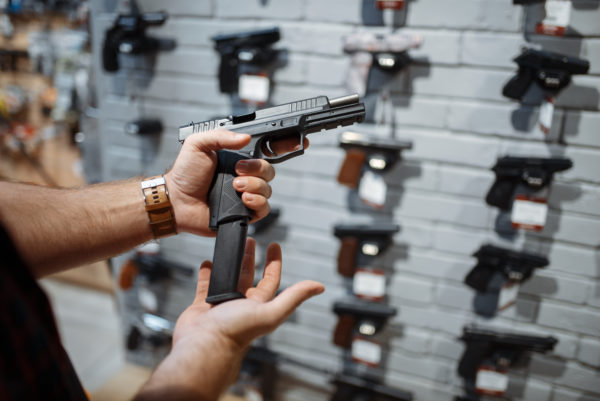 Why Choose Vector Payments for Gun-Friendly Payment Processing?
At Vector Payments, we understand the unique needs of firearm merchants. We specialize in payment processing for this industry, and we're dedicated to providing firearm-friendly solutions that meet all applicable compliance requirements.
Our relationships with banking partners and credit card networks allow us to offer flexible payment solutions that easily integrate with your existing operations. Our payment processing solutions include:
Retail Payments
Accept payments in-store with confidence. Guns and other firearm merchandise can be safely bought and sold with payment options such as EMV chip cards, Apple Pay, Google Pay, and more.
Better yet, we also provide tools that make it easy to track sales and manage customer data. Our software helps make sure your customers' information is always kept secure.
EMV Terminals
Securely accept payments with EMV terminals. Our EMV-ready hardware helps you protect customer data and reduce the risk of fraud or theft. We know that security is a top priority for merchants, so we offer only the best in EMV technology. For firearm vendors, this is especially important because it helps protect customer information and comply with applicable laws.  Did we mention that we provide this hardware for FREE?
Wireless/Mobile Terminals
Go mobile with our wireless payment solutions. Our terminals are designed to be easy to use, and they can be set up quickly and easily. Getting paid has never been this hassle-free!
Virtual Terminal
Selling firearms and gun-related merchandise can be a challenging and complex process, but it doesn't have to be. You can save time with our virtual terminal. This is perfect for merchants who need to process payments quickly and securely. Our virtual terminal allows you to accept payments remotely, making it easier than ever to process payments no matter where you are.  We also easily integrate with Gun Broker.
POS Solutions
For firearm merchants, a point-of-sale (POS) solution is a must-have. Our advanced POS system helps you manage your inventory, track sales, and accept payments securely. We also provide integrated solutions that help streamline your operations.
All our solutions are secure, reliable, and compliant with all regulations. Instead of stressing about compliance, you can focus on running your business and satisfying customers.
Did we mention we have a 5-star customer service team? We offer support from our knowledgeable experts to help you every step of the way. 
Ready to get started? Contact us today and learn how Vector Payments can help you take your firearm business to the next level.