THC Payment Processing
Compliant Solutions For Cannabis Companies
THC Payment Processing for Cannabis Companies in 2020.
Vector Payments knows there is no greater challenge to the THC/cannabis market than finding secure, cash-free payment processors so your customers can have access to your life changing products. Faced with unfair federal rules that are decades behind the current marketplace, traditional payment options aren't possible. Likewise, newer options aren't quite yet ready to jump through all the necessary hoops to get your products in the hands of your customers. Random account shutdowns and ridiculously high fees can leave both legal businesses and their customers in a bind, which is where the importance of cash-free payment processors comes into play.
Compliant Credit Card Programs for the Cannabis Industry.
Vector Payments exists to help cannabis companies sell their compliant products and services online. From help with payment processors to walking Cannabis entrepreneurs through many potential pitfalls, Vector Payments' decades of experience helps their clients understand how to safely, simply, and legally provide for their customers in the way they expect: secure payment systems. With transparency at the core of what we do, you'll know rates and fees far ahead of time instead of being blindsided at the last minute, plus we provide personal customer support 24/7 every step of the way.
Times Have Been Tough In Our Budding Industry.
We understand the frustrations you may have faced as a cannabis business with many payment providers promising the latest and greatest cashless payment options, only to find their 'solution' shut down after a few months.
We're here to change all that!
Vector Payments and our banking partner are FINALLY providing the industry with a debit card processing solution that's no different than the one at your local coffee shop.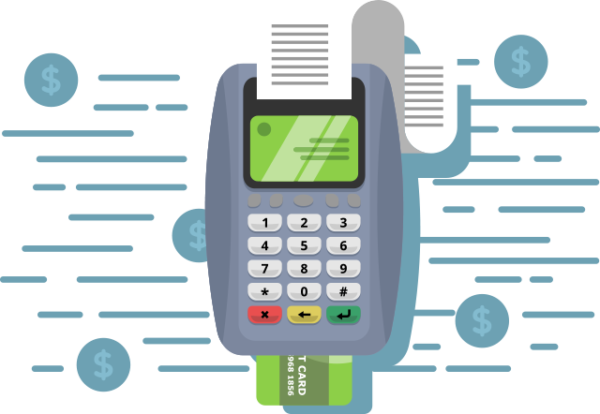 Cashless ATMs & Point Of Banking Systems.
PIN-based, in-store cashless ATMs are currently a popular option for both CBD and Cannabis based businesses. They also reduce cash on site, as only change is needed (say a customer ran a $20 charge and spent $18.90, they'd be given $1.10 in change). They're usable via an array of in-store and wireless terminals that are extremely easy to use.
Both customers and store owners benefit here, as customers are able to work with familiar ATM setups that allow for quick and easy approval and setup as no integration with existing POS systems are necessary while offering end-to-end encryption, and integration is available for select POS partners as well.
Point Of Banking systems look like typical credit card processing hardware. Customers can swipe their debit card, enter their pin, and upon approval receive their products. Funds are debited from a customer's account and deposited into your merchant account within three business days. They typically offer no cost processing to businesses, do not require the floor space of an ATM, and reduce cash flow.
With Point of Banking systems, customers are charged a convenience fee, while store owners are only responsible for set up and monthly maintenance fees. Store owners also avoid high, and often fluctuating, credit card rates and fees associated with traditional credit card processing, making them a reliable option for most high-volume, low transaction amount retail stores looking to allow customer options that they're accustomed to seeing at mainstream retail locations.
Benefits to both customers and store owners are plentiful, including reduction in chargebacks because of card present, pin-based transactions, no merchant fees paid by the store owner, and discrete transactions that show up as ATM withdrawals on consumer banking statements.
Online Payment Processors.
While no states currently allow cannabis to be purchased online using a credit card, many cannabis companies are looking to sell branded merchandise and paraphernalia to fans of their brand. Vector Payments can work directly with interested parties to help set up sites or landing pages, while walking owners through exactly how to set up their digital catalogs so they can find suitable payment processors willing to handle online transactions. This is the trickiest of the payment options, but is becoming far more useful for cannabis brands looking to expand their reach from their local market — especially important for multi-state operations. While many mainstream credit card processors tend not to approve cannabis-based companies no matter what they're looking to sell, Vector Payments can help find solutions that potential customers can feel safe trusting.
Cannabis Consultants.
More than just a service, Vector Payments works as consultants through every step of the process, from site design to payment options and "eyes and ears" for the credit processing industry to long-term business planning. We know the pain points many specific processors miss and have the ability to give help on an individual level — no long waits for the next available customer service representative here. We're able to help explain what things like the Secure and Fair Enforcement Banking Act might mean if passed, as well as what workarounds are available that do not require major credit card processors for your Cannabis company.
Vector Payments is an Extension of Your Team.
Running a business is a lot of work, let us take the guesswork out of the confusing payment processing space with our expertise so you can focus on what really matters – growing your business. Whether you're looking for tried-and-true strategies so you don't have to reinvent the wheel, reduced rates and fees along with better service, or simply in need of a solution that'll stay on so you can focus on running your business, Vector Payments has got you covered! We've formed multiple strategic partnerships with banks across the world to ensure we have a safe home for you regardless of the types of Cannabis products you sell.
Vector Payments resolves to work alongside each of our clients to help you understand the industry a bit better while allowing you to focus on your strengths of growing your businesses. Get peace of mind knowing you are working alongside industry experts who've already seen the struggles you are about to come up against.
With more states offering legal cannabis seemingly every year, restrictions will be eased as we march toward inevitable federal legalization. But to be ready for that, cannabis companies must have systems and processes already in place for when cannabis itself is legal to sell online, but until then, Vector Payments is here to be your guide for an ever-changing industry needs.
What Makes Us Different.
Vector Payments is a first of its kind debit card processing company partnered with a US Bank providing a fully compliant cashless payment solution to the Cannabis indusry.
Frequently Asked Questions.
We're always just a phone call away and are more than happy to answer any of your questions, but here are a few questions that we get asked all the time.
Looking For More Info?
Reach Out Anytime To
Setup Your Free Consultation!
We want to make sure you're as educated as possible on your payment processing options before making this decision for your business. Please feel free to call us at 888-237-1754 or use the form below to send us a message with your inquiry.
Your information will never be shared with a third party.
[contact-form-7 id="6366″ /]